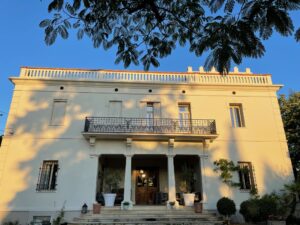 Maison des Cèdres is a classic French villa from in Belle Epoque style built by Colonel Charles Michel Jean Honoré Tronyo in 1910. You can see the Colonel's colonial inspiration throughout the home. The mansion is 300m2 in total, not including the basement. The villa sits on 2,8 hectares of lush land with a wide variety of local trees, flowers, and vegetation. The property also has a 10m x 5m pool with lounge chairs, pergola. The estate can comfortably house 10 people and will serve as your authentic French retreat.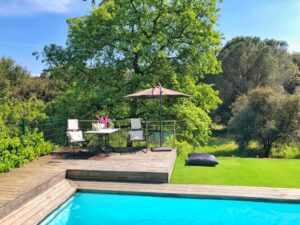 The ground floor is where you will find the kitchen, which is fully equipped with brand appliances and all the dish ware needed to prepare for different sized gathering.
There are three salons on the same floor. The kitchen opens to the dining Room. This room has a large dining table that fits up to 14 people. Next is the Living Room. This is a comfortable lounge area for relaxing or pre-dinner cocktails. There is also a covered exterior gallery, or Loggia, ideal for outdoor relaxing.
On the second floor are the living quarters which include 5 spacious and newly updated bedrooms, all with private bathrooms. All bedrooms have been equipped with fresh new furniture and air conditioning. All bathrooms have brand new heated floors and fixtures.
You can read about all the facilities more in details throughout our website.